I have been working on tons of itty bitty hats and booties. I am working towards opening a hop featuring handmade gifts for babies and am trying to work out my patterns and build some inventory while I work out other logistics.
So without further ado:
I am still working a pair of booties to go with the pretty green hat. I think the green hat is my favorite of the bunch. I also haven't decided if I am going to embellish it or how so if you guys have any suggestions in that regard they would be welcome.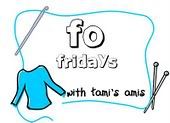 Thanks for stopping by! If you want to see more great finished items… visit Tami's Amis blog, the organizer of this great FO Friday theme!
I hope you have a wonderful weekend!